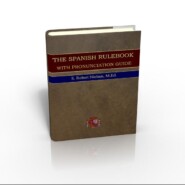 The Spanish Rulebook is a result of years of rigorous and extensive research in Spanish language instruction. This comprehensive reference is a must-have for any serious student of the Spanish language.
The Spanish Rulebook is really three books in one: pronunciation guide, grammar and verb resource, and usage manual. It is the perfect reference for any Spanish language student.
Click here to download the Spanish Rulebook for free!

Over 1000 authentic, embedded audio examples of Spanish used in context


Clear and concise definitions for even the most complex linguistic concepts


Detailed grammatical constructions with charts, examples, and exceptions


Helpful usage advice with real-life examples


Precise and easy-to-use pronunciation guide


Unique and practical "Real Spanish" guide to understanding Spanish the way people really speak it


Generous coverage of common dialect differences including Castellano and Rioplatense


Much, much more